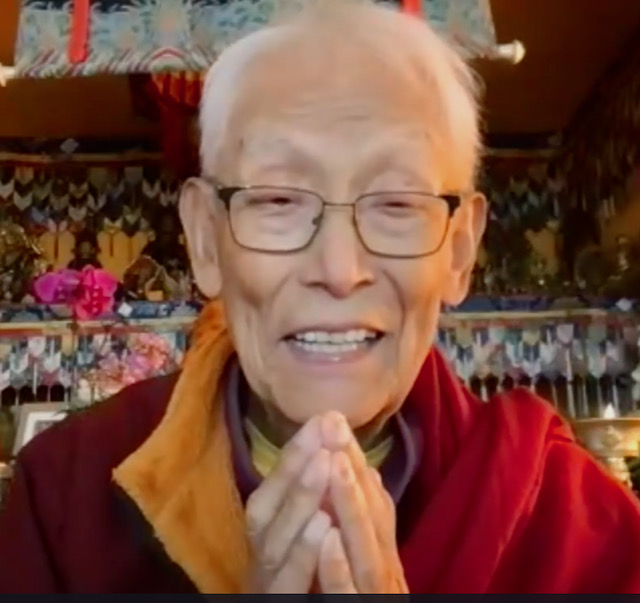 Ven. Lama Kunga Rinpoche will kindly bestow the
EMPOWERMENT OF WHITE SARASWATI on SUNDAY, MARCH 19, 2023 at 2:00 PM, Pacific daylight savings time.
The power of White Saraswati brings intelligence and mental clarity, with a focus on creative arts of all kinds. She protects the Buddhadharma and the practitioner.
The Empowerment is open to everyone with no advance registration. There is a requested (not required) donation payable through the DONATE button on this website (front/homepage, right side).
Please arrive on time. People won't be admitted after the empowerment session has started, Please stay until the end. If you leave early, you have not received the empowerment.
A practice sadhana for Saraswati can be mailed to people who have completed the empowerment and request it. You have to send your request and home mailing address (not email) to Ewam Choden after the Empowerment.
HOW TO LOG ON FOR THE EMPOWERMENT.
If you attend the Sunday mornng meditation with Lama Kunga Rinpoche, use the same log on as you use for that.
Join Zoom EMPOWERMENT with the following LINK.
https://zoom.us/j/92773242520?pwd=bzFiSXk2K3NTSEUvNU5qNkFZSHdzUT09
If you log in directly from this link, you probably won't need the password.
If you enter from the Zoom website with the Meeting ID, you will need the password.
Meeting ID: 927 7324 2520
Password: Request by email TO EC (info@ewamchoden.org)
One tap mobile
+16699009128,,92773242520#,,,,251385# US (San Jose) +12532158782,,92773242520#,,,,251385# US (Tacoma)
Dial by your location
+1 669 900 9128 US (San Jose)
+1 253 215 8782 US (Tacoma)
+1 346 248 7799 US (Houston)
+1 646 558 8656 US (New York)
+1 301 715 8592 US (Washington DC)
+1 312 626 6799 US (Chicago)
Meeting ID: 927 7324 2520
Passcode: Request by emailing EC
Find your local number: https://zoom.us/u/adhzemTV2g
VEN. LAMA KUNGA RINPOCHE WILL KINDLY BESTOW THE EMPOWERMENT OF PARNASHAVARI
DAY—Sunday, January 22, 2023
TIME– 2:00 pm Pacfic time.
LOCATION–Zoom Room only
Here is the link to the Zoom Room for the Parnashavari Empowerment.
https://us06web.zoom.us/j/82726095753
Meeting ID 827 2609 5753
LAMA KUNGA RINPOCHE SAYS THAT ANYONE MAY COME TO THIS EMPOWERMENT.
REGARDLESS OF DONATION PAYMENT, THE ZOOM ROOM WILL BE OPEN TO ALL.
The only condition is that after receiving the empowerment, you should learn the mantra and recite it.
PLEASE PREPARE for this empowerment by downloading the document at the following link. You may use the pdf download on the right side of the document page.
https://www.lotsawahouse.org/tibetan-masters/chogyal-pakpa-lodro-gyaltsen/parnashavari-dharani
———————————————————————
REQUESTED DONATION—$30
Dana, (offering to the Lama), is separate
HOW TO PAY:
Please pay in advance by clicking the Donate button on the right side of the front page of the Ewam Choden website.
Then, you can safely use a PayPal account or a credit card, as you'll see.
Include a note with your payment saying that you'll attend this empowerment. This is important.
If you have to send a check, mail it to Ewam Choden as soon as possible, and send an email saying that you've mailed a check.



Here is the link to the Zoom Room for the Parnashavari Empowerment.
https://us06web.zoom.us/j/82726095753
Meeting ID 827 2609 5753
Parnashavari is a forest goddess whose practice gives power to heal and remove health obstacles, serious illnesses, and particularly pandemics. She is in touch with the natural cures of her forest.
HEVAJRA (ཀྱེའི་རྡོ་རྗེ་) is the main deity of the Sakya tradition and its practice is the focus of the Lamdre teachings. This empowerment may be taken either as a practice or as a blessing.
This Empowerment will be In-person and will not be Livestreamed.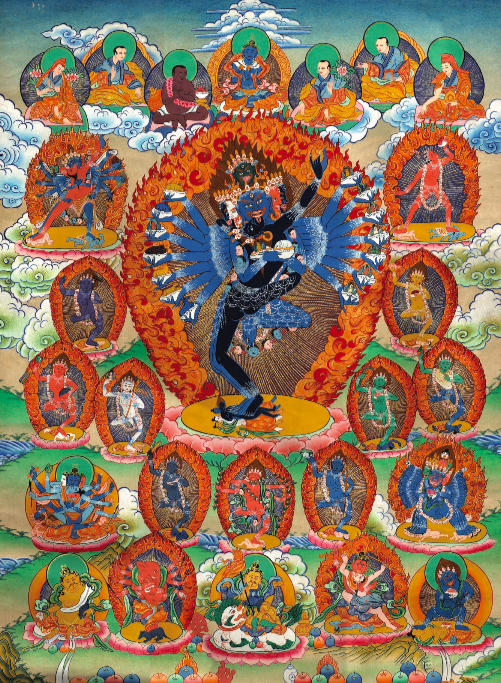 Preparation Day / Tuesday, July 19 2pm – 4pm
Main Initiation / Wednesday, July 20 2pm – 6pm
Note: All times refer to California, USA, Pacific Daylight Time
Please arrive no later than 30 minutes before each session
No one can be admitted after the start of the Preparation Day or the Empowerment day.
IMPORTANT: YOU MUST ATTEND BOTH DAYS OF THIS EMPOWERMENT
LOCATION:
Gyuto Foundation
15 minutes north of Ewam Choden
6401 Bernhard Ave, Richmond, CA.
COVID ACCOMMODATIONS:
Large shrine room with adequate spacing and ventilation.
Nonetheless, Masks are required.
TOTAL ATTENDANCE IS LIMITED TO 100 PERSONS
25 PLACES are allocated to people who have not received this empowerment from a Sakya lama.
The remaining 75 PLACES are available to people who have already received this empowerment from a Sakya lama.
THIS WILL NOT BE LIVESTREAMED and WILL BE IN-PERSON ONLY
EVERYONE MUST PRE-REGISTER USING THE FORM BELOW.
On the form, please indicate if you've already received Hevajra from a Sakya lama, or if this empowerment is new to you.
$108 PER PERSON
Payment will be processed by PayPal Account or by Credit Card via PayPal (PayPal account not needed). Please continue to Pay after completing the Registration Form. If necessary, please arrange directly with Ewam Choden for other means of payment.
We are grateful that H.E. Thartse Khen Rinpoche has kindly agreed to offer these empowerments and a Dharma Talk.
ABOUT PRACTICE OF THE EMPOWERMENTS
You may receive the empowerments as a blessing or for personal practice. If you want a sadhana (practice paper), send an email to Ewam Choden (info@ewamchoden.org) with your postal mailing address. We don't send digital copies of sadhanas. Also, write the empowerments that you received. A donation for postage is good, especially if you're not in the USA.
THE FOLLOWING EMPOWERMENTS will be livestreamed on ZOOM.
THE ZOOM LINK IS THE SAME FOR ALL EMPOWERMENTS AND FOR THE TEACHING BELOW.
https://us06web.zoom.us/j/87622434839?pwd=Z0kvV3lmNVVXK0JUcFFpQ1NYbS94dz09
WAIT FOR THE HOST TO ADMIT YOU TO THE ZOOM ROOM.
等待主人让您进入缩放室。
Děngdài zhǔrén ràng nín jìnrù suōfàng shì.
There's no pre-registration, but donations are very much appreciated. There's a donate button on the front page, right side, of this website.
Note: All times refer to California, USA, Pacific Daylight time.
completed–Green Tara (Atisha) on July 22 at 6 pm
completed—Manjushri on July 23 at 10am
completed—Vajrapani Bhutadamara on July 23 at 2 pm
completed—Chenrezig on July 24 at 10 am – During normal Sunday Meditation time slot
completed–Medicine Buddha on Saturday, July 30 at 11 am (new time)
completed–Hayagriva on Saturday, July 30 at 2 pm (same time)
Sunday, JULY 31 AT 6 PM (new time)
DHARMA TEACHING ON ZOOM:
"THE PURPOSE OF BUDDHA's TURNING THE WHEEL OF DHARMA IN THIS UNIVERSE, AND WHAT WE CAN EXPECT BY PRACTICING HIS TEACHING."
ZOOM LINK: https://us06web.zoom.us/j/87622434839?pwd=Z0kvV3lmNVVXK0JUcFFpQ1NYbS94dz09