Successfully completed–HEVAJRA Empowerment with Thartse Khen Rinpoche July 19-20, 2022
HEVAJRA (ཀྱེའི་རྡོ་རྗེ་) is the main deity of the Sakya tradition and its practice is the focus of the Lamdre teachings. This empowerment may be taken either as a practice or as a blessing.
This Empowerment will be In-person and will not be Livestreamed.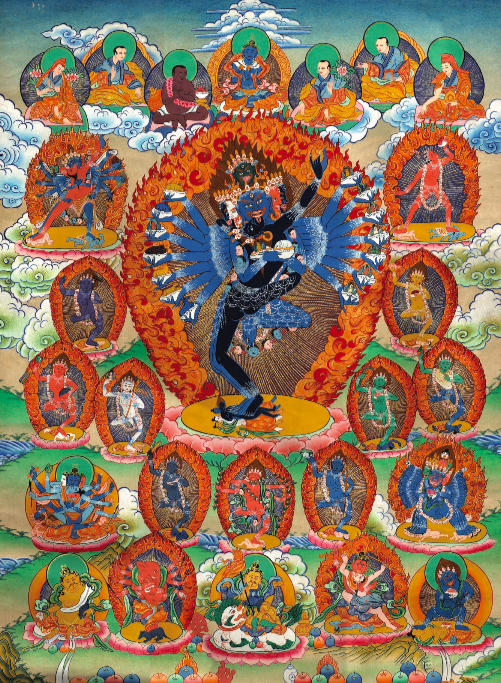 Preparation Day / Tuesday, July 19 2pm – 4pm
Main Initiation / Wednesday, July 20 2pm – 6pm
Note: All times refer to California, USA, Pacific Daylight Time
Please arrive no later than 30 minutes before each session
No one can be admitted after the start of the Preparation Day or the Empowerment day.
IMPORTANT: YOU MUST ATTEND BOTH DAYS OF THIS EMPOWERMENT
LOCATION:
Gyuto Foundation
15 minutes north of Ewam Choden
6401 Bernhard Ave, Richmond, CA.
COVID ACCOMMODATIONS:
Large shrine room with adequate spacing and ventilation.
Nonetheless, Masks are required.
TOTAL ATTENDANCE IS LIMITED TO 100 PERSONS
25 PLACES are allocated to people who have not received this empowerment from a Sakya lama.
The remaining 75 PLACES are available to people who have already received this empowerment from a Sakya lama.
THIS WILL NOT BE LIVESTREAMED and WILL BE IN-PERSON ONLY
EVERYONE MUST PRE-REGISTER USING THE FORM BELOW.
On the form, please indicate if you've already received Hevajra from a Sakya lama, or if this empowerment is new to you.
$108 PER PERSON
Payment will be processed by PayPal Account or by Credit Card via PayPal (PayPal account not needed). Please continue to Pay after completing the Registration Form. If necessary, please arrange directly with Ewam Choden for other means of payment.